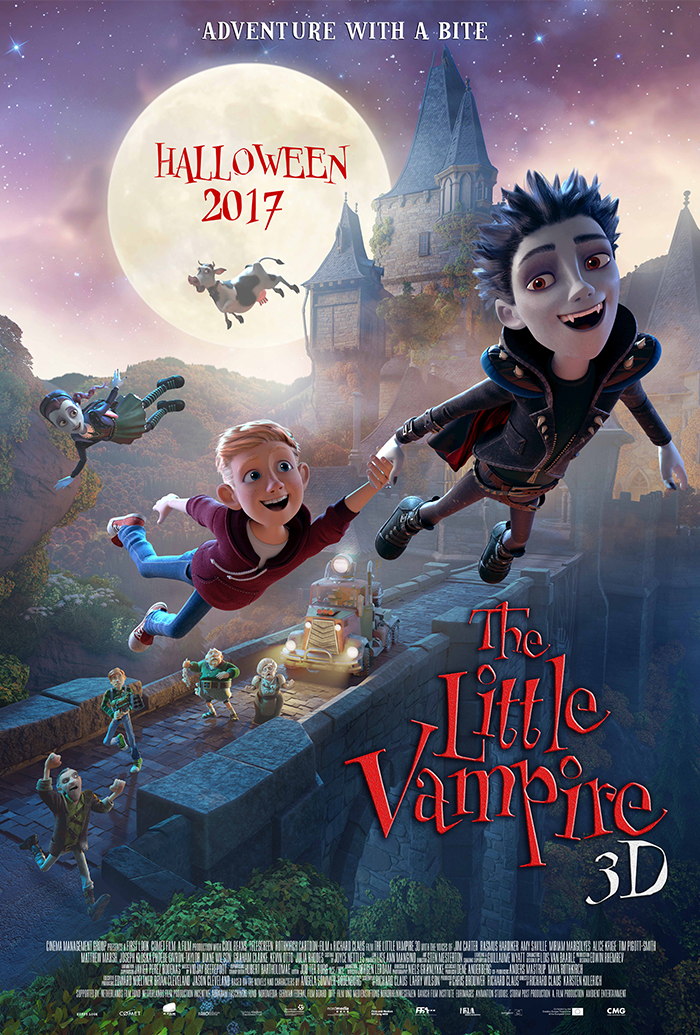 THE LITTLE VAMPIRE, based on the characters from the bestselling novels by Angela Sommer-Bodenburg, tells the story of Rudolph, a thirteen year old vampire, whose clan is threatened by a notorious vampire hunter. He meets Tony, a mortal of the same age, who is fascinated by old castles, graveyards and – vampires. Tony helps Rudolph in an action and humor packed battle against their adversaries, and together they save Rudolph's family and become friends.


The Little Vampire 3D
Production Status
Completed
Genre:
3D Animated Feature
Starring
Jim Carter (My Week with Marilyn, Alice in Wonderland, Downton Abbey)
Rasmus Hardiker (Thomas & Friends, Thunderbirds, Your Highness)
Alice Krige (Thor: The Dark World, The Sorcerer's Apprentice)
Tim Pigott-Smith (Jupiter Ascending, Alice in Wonderland)
Miriam Margolyes (Harry Potter, Happy Feet)
Matthew Marsh (Red Tails, Spy Game)
Joseph Kloska (Cinderella, Jane Eyre)
Phoebe Givron-Taylor (The Gruffalo)
Director
Richard Claus and Karsten Kiilerich
Producers
Chris Brouwer (The Silent Army)
Richard Claus (The Silent Army, Black Butterflies, The Price of Sugar)

Animation Studios:
Storm Post Production (The Lobster, The Commune)
A. Film (Asterix and the Vikings, The Ugly Duckling & Me)
Ambient Entertainment (Tarzan, Animals United)



"The Little Vampire" series was originally adapted in 2000 by Richard Claus into a live-action feature directed by Uli Edel.  The film received a wide theatrical release via New Line Cinema garnering $13.5 million at the US box-office. It sold to every single territory in the world and in Germany it scored over 1.5 million admissions and made over £ 4.5 million in the UK.
"The Little Vampire" film has cultivated even more popularity among its target audience of 5-12 year olds as the Disney Channel features it annually in its Halloween special and The Wall Street Journal named it 'One of the ten frightfully fun Halloween movies for kids' last fall.
Worldwide Theatrical Release Halloween 2017