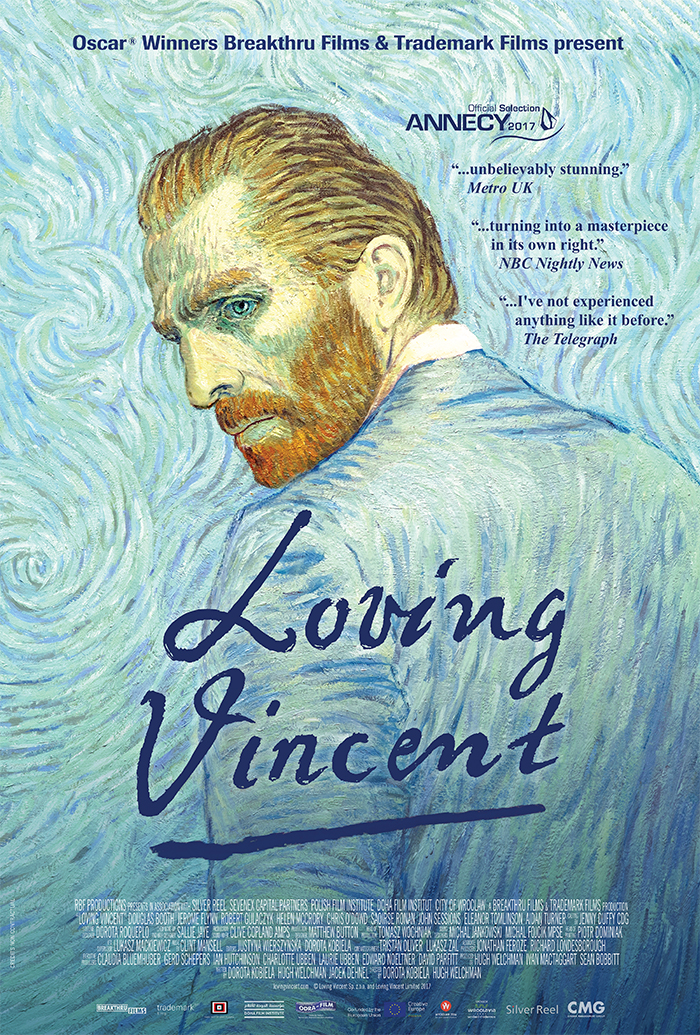 The life and controversial death of Vincent Van Gogh told by his paintings and by the characters that inhabit them. The intrigue unfolds through interviews with the characters closest to Vincent and through dramatic reconstructions of the events leading up to his death.

LOVING VINCENT features over 120 of Vincent Van Gogh's greatest paintings. The plot, drawn from the 800 letters written by the painter himself, lead us to the significant people and events in the time leading up to his unexpected death. Every shot is painted just as Vincent himself painted.

LOVING VINCENT will be the world's first feature-length painted animation.

Loving Vincent
2017 European Film Awards - Nominated Best Animated Feature


2017 Shanghai Int'l Film Festival - Best Animation


2017 Annecy Int'l Film Festival - Audience Award


2017 Parool Film Festival - Audience Award


Production Status
Completed
Genre:
Fully Painted Animated Feature
Starring
Douglas Booth (Romeo & Juliet, Noah, Jupiter Ascending)
Jerome Flynn (Game of Thrones)
Robert Gulaczyk
Helen McCrory (Harry Potter, Skyfall, Hugo)
Chris O'Dowd (Bridesmaids, Calvary, St. Vincent)
Saoirse Ronan (Oscar Nominee for Brooklyn, The Grand Budapest Hotel)
John Sessions (Mrs. Holmes, The Silent Storm, Gangs of New York)
Eleanor Tomlinson (Jack the Giant Slayer, Alice in Wonderland, Poldark)
Aidan Turner (The Hobbit Series, Poldark)
Director
Dorota Kobiela (Little Postman, Chopin Drawings), Hugh Welchman (Peter & the Wolf)
Producers
Hugh Welchman (Academy Award – Best Animated Short for Peter & the Wolf)
Ivan Mactaggart (My Week with Marilyn)
Sean Bobbitt (CEO Silver Screen Cinemas)

Exec-Producers:
David Parfitt (Shakespeare in Love)
Charlotte Ubben (American Honey, Tallulah)
Laurie Ubben
Gerd Schepers (Fallen, Jobs)
Claudia Bluemhuber (A Hologram for a King, Eye in the Sky, Under the Skin)

Composer:
Clint Mansell (Black Swan, Requiem for a Dream)
"... an Animated Masterpiece! I have never seen anthing on screen life it before."


- Deadline Hollywood

"... it's really quite astonishing."


- The Independent

"... I've not experienced anything like it before."


- The Telegraph

"... turning into a masterpiece in its own right."


- NBC Nightly News

"... unbelievably stunning."


- Metro UK
Official site