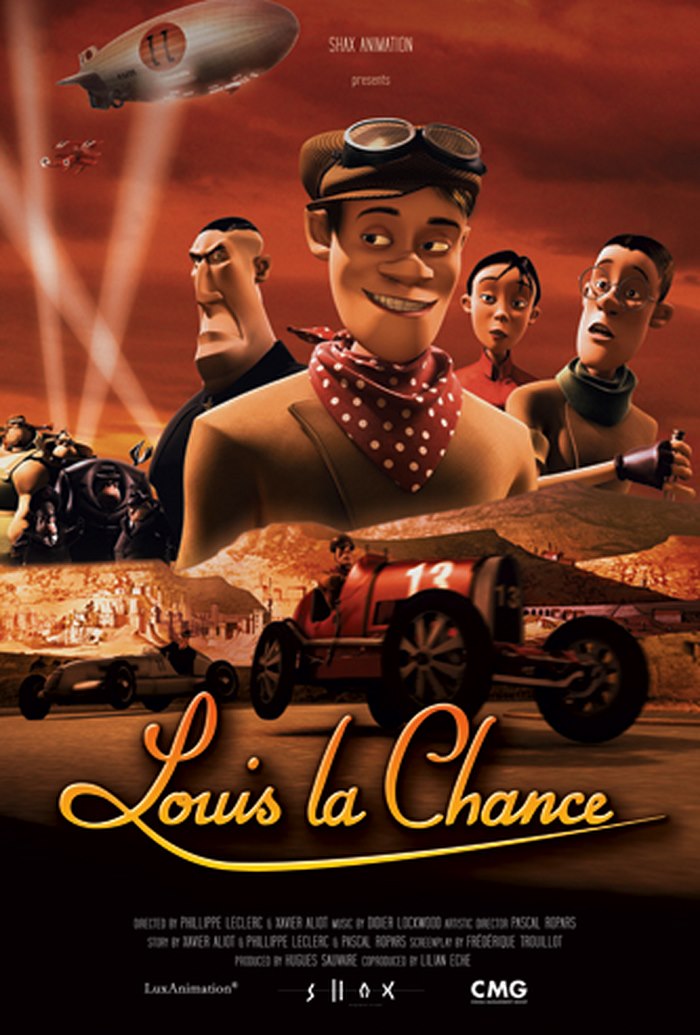 A hilarious, fast paced, action-packed animated feature set during the early years of the Monaco Grand Prix. Louis and his brother, Remi, have developed a powerful new racing fuel. Their principal opponent, Borgstein, apparently caused the death of their father during the 1929 Monaco Grand Prix. Now, with their new fuel and their father's restored Bugatti, they will seek revenge. Matters complicate when Borgstein's attractive daughter Katia enters the equation. And Borgstein's backer, the evil dictator Hash is determined on stealing their fuel for his diabolical missile project. After a series of comical mishaps, Louis recovers their fuel in Hash's Alpine eagle's nest. But will our young heroes be able to return to Monaco in time for the start of the Grand Prix to win the race and save the day?
LOUIS LA CHANCE
Production Status
In Pre-Production
Director
Philippe Leclerc and Xavier Aliot
Producers
Shax Animation (France), Lux Studios (Luxembourg) and Carpe Diem (Canada)

Philippe Leclerc started his career working with French animator Paul Grimault on "The King and the Mockingbird" (1979) and "Turning Table" (1988). Thereafter Leclerc joined La Fabrique Studios and directed several animated series, including the famous "Animals of Farthing Wood". Leclerc then set-up Praxinos Studios, with Jean Paul Gaspiri and worked on "Wheel Squad", "Noah's Island", "April and the Bogeyman", and "Shtoing Circus". Leclerc's most recent directorial effort is the critically acclaimed "Princess of the Sun", released in 2007.

Xavier Aliot in 2004 made his first animated film, "Oui Maman" and then directed the film "Exit", which was selected to preview in a great number of world famous film festivals, including SIGGRAPH, and the Annecy International Animated Film Festival. The film won awards in England, Germany, France and the United States. In 2006, Aliot and producer Hugues Sauvaire set up the production company SHAX France.
"Toon Town no shortage of product"


- Hollywood Reporter 11.9.08