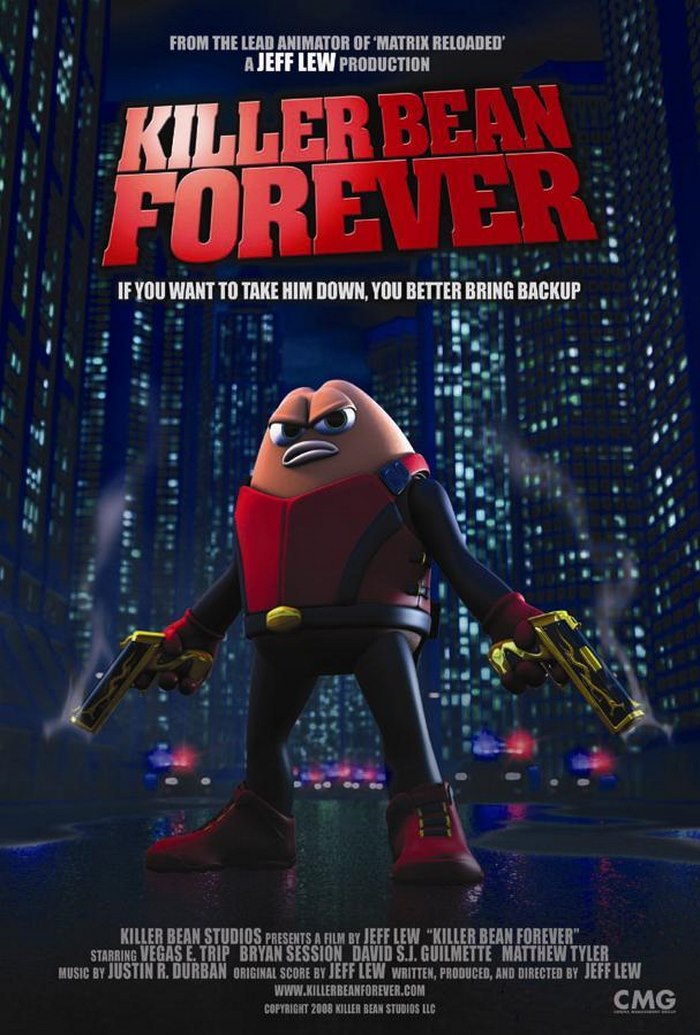 SYNOPSIS: It could be any urban jungle in the world. Warehouses full of illegal merchandise, machine gun toting mobsters, and a police force stretched thin. Except that this is Beantown! A world of break dancing, gun-toting bad ass coffee beans, covert bean assassins, slacker mob beans, mercenary bean battalions, and twitching trigger-fingered bean cops!

Enter KILLER BEAN – the most ruthless, reckless, dazzling coffee bean assassin to ever lay foot in Beantown! In a spectacle of gun wielding artistry and jaw-dropping martial arts, Killer Bean attacks a warehouse full of partying thugs. Mob boss Cappuccino, threatened by the assault on his warehouse, fortifies for retaliation.

Detective Cromwell, a lawman obsessed with Cappuccino, is forced to choose between apprehending Killer Bean or encouraging his vigilante agenda.

Killer Bean needs no friends and soon finds out that he has none when the covert agency that he works for calls for his death. With wise-cracking bravado, Killer Bean blazes his way through a relentless onslaught of elaborate gun fights and over the top face-offs to the ultimate showdown between himself and a mysterious assassin from the East.
Killer Bean Forever
Production Status
Completed
Producers
DIRECTOR, PRODUCER BIO: Jeff Lew has been an animator in the visual FX industry for over 10 years, working on big budget productions such as Matrix Reloaded (Lead Animator), X-Men, Looney Tunes: Back in Action, The Spiderman Universal Studios ridefilm, The Simpsons Universal Studios ridefilm, and the upcoming Transformers 2. In 2000, Jeff released the 7 minute short film, "Killer Bean 2: The Party." It quickly became an internet sensation, being viewed over 1.8 million times on Ifilm alone, and gracing the covers of industry magazines.

With the knowledge and experience he gained from the FX industry, Jeff Lew formed a studio with the purpose of producing CG animated feature films. Killer Bean Forever is the first film from this venture.